Housekeeping
I hope everyone had a good Thanksgiving holiday. Due to the holiday, therapy days, and mostly due to AT&T's dismal failure to provide basic internet and phone service for a week, this newsletter is shorter than it would have been.
Litigation
The families of most of those killed and wounded in the 2018 Florida high school massacre have reached a $127.5 million settlement with the federal government over the FBI's failure to stop the gunman even though it had received tip information that he intended to attack about a month prior to the massacre. The FBI received a telephone tip that the eventual shooter had purchased guns and planned to shoot up a school.
Gun makers including Smith & Wesson and Sturm, Ruger & Co. asked a U.S. judge to dismiss a lawsuit by the Mexican government accusing them of facilitating the trafficking of weapons to drug cartels, leading to thousands of deaths.
A bit on the Rittenhouse verdict
You know, Hollyweird is predictably outraged over the verdict. Reckon what they're gonna say about the Alec Baldwin verdict?
The Ninth U.S. Circuit Court of Appeals by a 7-4 vote of an en banc panel has rejected a challenge to California's ban on "high-capacity" magazines, calling it a reasonable means to try reducing gun violence following a spate of mass shootings nationwide. Plaintiffs had claimed that banning magazines with more than 10 rounds of ammunition violated their right to bear arms under the Second Amendment and earlier conclusions from a lower court and a three-judge panel of the 9th Circuit agreed. We see no test of "reasonableness" in that amendment, such as exists in the Fourth Amendment.
The Tenth U.S. Circuit Court of Appeals reversed a felon-in-possession conviction this week, saying that the reversal comports with a previous decision finding that people who received mandatory probation with long suspended prison sentences are not federally prohibited from gun ownership.
ATF
---
It looks like the Federal Registry commenting system is corrupt.
Kinda like the voting system.
---
Jackson, MS
The Jackson Police Department advised folks this week to "cooperate with robbers." In related news, Jackson just broke its all-time annual murder record, with a month still left in the year. So much for cooperation. One wonders if JPD officers take their own advice. This is also where the mayor tried to overturn state gun laws and the constitution with an executive order.
Tom Givens on civilian self defense
Newsletters
The Rangemaster (.pdf document) and ACLDN December newsletters are out.
2021-12_RFTS-Newsletter

---
Handgun round penetration & performance
CCW methods for women
I suggest that a purse – any purse – isn't #1.
The Only Ones
At least four LAPD officers and a deputy in the LA Sheriff's Department knowingly bought stolen guns from the LAPD Police Academy's gun store.
Liars
CNN inflates "mass shooting" stats by over 10 times
And last weekend, CNN treated cars the same way they treat guns, tweeting out, "Waukesha will hold a moment of silence today marking one week since a car drove through a Christmas parade, killing six people and injuring scores of others."
Actor Alec Baldwin now says he didn't pull the trigger on the gun that he shot two movie production people with, killing one, on a movie set in New Mexico. Reports indicate there was no reason for him to point at them, let alone shoot. Santa Fe County Sheriff Adan Mendoza identified the gun used in the shooting as a modern Pietta replica of a single-action army revolver. Some of those guns don't have any sort of transfer bar safety and could go off from an impact to the hammer if it is uncocked and resting on a live round. But you don't often (ever) see that sort of impact while aiming a gun.
And about those live rounds, not that it really matters.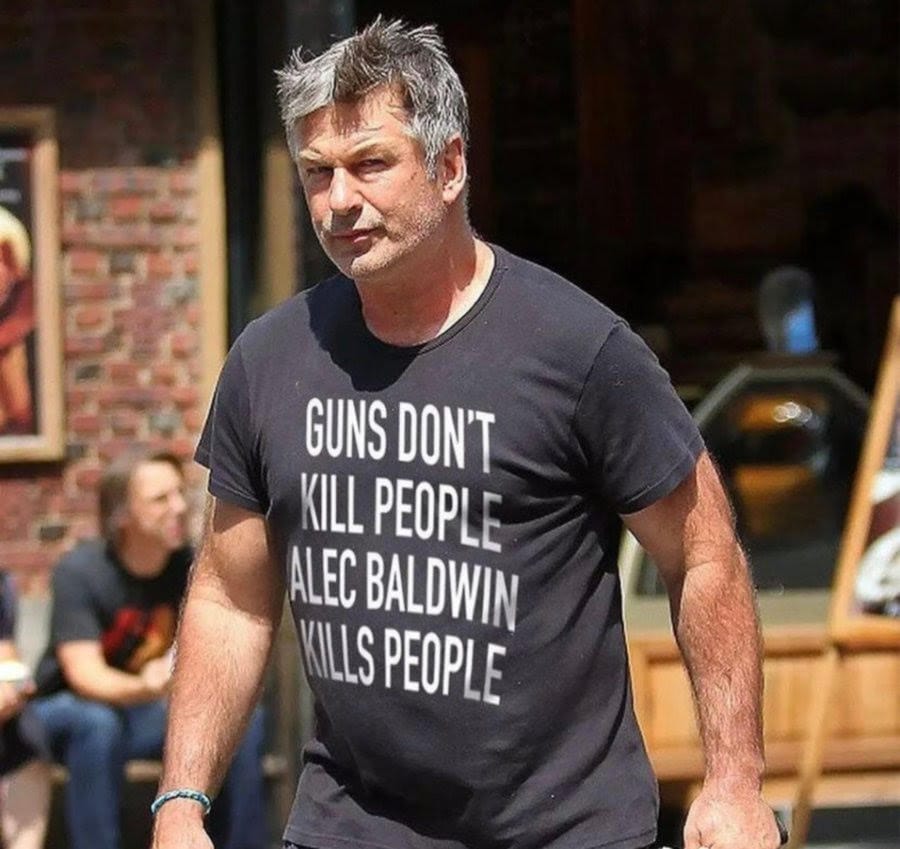 About the permitless carry bloodbath.
Enemies
Levis. Don't. Just don't.
International Association of Chiefs of Police. Still.
"Dr. Oz" is now a Republican U.S. Senate candidate for Pennsylvania, and is Anti-Gun:
"Public health crisis"
Supports banning semi-auto firearms
Wants CDC gun control
Partnered with 'moms' and Sandy Hook Promise
Anti-gun actor Matthew McConaughey, who does not vote, has decided not to run for governor of Texas. Meanwhile "Hell yes, we'll take your AR-15" gun banner Robert Francis "Beto" O'Rourke is running for Texas governor.
Dept. of Idiocy
A Berkeley County [SC] gun shop owner fatally shot his friend after allegedly mistaking his own Glock 17 for a BB gun. The owner of the store, Jon Whitley, told deputies that he mistook his Glock for a BB gun and accidentally shot his friend and part-time employee in the face. The friend died and Whitley has been charged with involuntary manslaughter. So apparently he INTENDED to shoot his friend in the face with a BB gun? And a GUN SHOP owner couldn't tell the difference between his real Glock and a BB gun when holding it in his own hand? I think he's both a liar and a fool, and this smells like murder.
Herman and Homer
Industry news
Ruger says that its Marlins are scheduled to be back on the shelves during the holiday season (but probably not in time to actually find one for Christmas).
Product reviews
ExtraCarry magazine pouches
As promised, the folks at ExtraCarry magazine pouches have sent me some free samples* to review. I have some for various capacity (length) .45 1911 pistol mags and one universal/adjustable one for 9mm single or double stack mags. There is good news and bad news.
All of these pouches are intended to be worn inside a pocket with a clip attached over the top edge of the pocket, the same way you carry your tactical folding knife. They are properly attached by rotating the clip 90 degrees about its mounting screw, slipping the mag inside the pocket, then rotating the clip back down to vertical to lock it onto the pocket.
I do not normally carry pistol magazines in a pocket, with the exception of dedicated magazine pockets or pouches installed in some "tactical" clothing. I used to sometimes carry little bitty pocket pistol mags in pockets, but mostly no longer carry those pistols. The magazines I do carry won't fit vertically inside most pants pockets. So this exercise was automatically out of my everyday routine.
The ExtraCarry magazine pouches appear to be very well made of high quality materials, primarily some sort of polymer, and the pocket clip simply will not let the pouch leave your pocket. However, I found that the single-stack 1911 versions fit the magazines loosely with no friction fit, and therefore the magazines can easily leave the pouch if you are very active. The different length versions for the 1911 (8-, 9-, or 10-round) appeared to be identical with the exception that the "strap" portion – that has the pocket clip at the top and the pouch pocket at the bottom – is longer for the longer mags. So if an 8-round magazine is all the length your pocket will take, you can put a longer mag in that pouch and let it stick up farther out of your pocket, but the longer pouch will not help for a longer magazine as it will hit the bottom of the pocket. The pants pocket has to be deeper for it to work.
Now on to the adjustable 9mm pouch. It attaches to your pocket the same way, but the pouch itself has Chicago screws that allow it to be adjusted for thicker (double stack) or thinner (single stack) mags. The pouch could generally be adjusted to get some friction fit on the mags if desired. This seemed to work pretty well, except the little Chicago nuts on the inside are impossible to grasp with any kind of pliers, screwdriver or wrench (and I have literally thousands of those), so the adjustment screws may be impossible to loosen or impossible to tighten. I think a captured recessed hex nut would work much better. I tried this pouch with a couple of different brand double stack 9mm mags and while some worked fine if the screws were properly adjusted, I had one that didn't. It turns out that some FN pistol magazines have a rather sharp little protrusion on the front center of the mag pretty close to the open end, which functions as the retainer which the pistol's mag catch engages to hold the magazine in the pistol. This protrusion prevented any of those magazines from entering the ExtraCarry pouch, regardless of the adjustment. I do not have that problem with other brands of magazine pouches, including rigid polymer ones, that I've used with those magazines.
So in summary, they didn't work for me, but appear to be well made and of good quality, though a bit pricey. ExtraCarry offers 2A News readers a discount code for Free Shipping. Discount Code: FREE2ANEWS.
*The sample mag pouches were given to me to evaluate. Other than that, I receive no compensation whatsoever from ExtraCarry.
Springfield SA 35 "Hi Power"
Springfield SA 35 "Hi Power" pistol. Yes I want one.
Products
The Fiocchi Group and Baschieri & Pellagri, have identified a range of technical solutions to manufacture shotshell wads made with 100% biodegradable materials, with technical performance in line or better than using traditional plastic materials. My yard will appreciate that.
TriStar Arms now offers its Bristol side-by-side shotgun in 16 gauge, built on a true-to-gauge receiver. It includes 5 Beretta-style Choke Tubes (SK, IC, M, IM, F) and weighs 6.55 lbs.
Item Number 38016 Case Color English Stocked MSRP: $1,190
Item Number 38116 Silver Walnut MSRP: $1,130
The Amend2 S300 is a hybrid grip module that allows users to utilize their Sig Sauer P320 slides and fire control units with P365 magazines. $60.