Veterans Day is Thursday. Don't forget.
Thank you, veterans.
Fast & Furious: the gift that keeps on giving
Litigation
SCOTUS heard oral arguments in the big New York gun carry rights case NYSRPA v. Bruen this week. Reports indicate the court (including liberal Chief Justice Roberts) is skeptical of New York's 100-year-old unconstitutional law. Well, duh. The court also seems determined to preserve the late Justice Scalia's made-up "sensitive places" argument from the Heller case, yet no one seems to be able to find that in the Constitution. Finally, the court will likely determine what level of judicial scrutiny it thinks should be applied in Second Amendment cases in the future. The written ruling is not expected until around the end of June, 2022. Tell you what – I can write it for you and have it by Monday, OK? I disagree with what many commenters say about the court possibly "expanding" gun rights. Those rights are already there and in fact pre-dated the Constitution. What the court may do is what the Constitution demands: expand restrictions on government's trampling of those existing rights.
The Justice Department has agreed to an $88 million settlement for the FBI's failures related to the purchase of the gun used in the 2015 Charleston church shooting, as if a criminal couldn't acquire a gun without the government's permission slip.
About those AR-15 "assault" rifles.
CZ USA filed suit against Vista Outdoor last month in federal court in Kansas, claiming breach of contract, unjust enrichment, and breach of implied good faith and fair dealing, related to CZ's attempt to acquire a firearms brand from Vista. I believe at the time Vista owned only Savage and Stevens firearms brands.
The Illinois Supreme Court has unanimously ruled that two taxes Cook County had imposed – one for firearms and one for ammunition – are unconstitutional. Well, duh.
Kopel's compelling argument
Election news
On election day this week, Republicans flipped the House of Delegates and every statewide office in Virginia, which had been circling the drain with a passel of gun control measures since the last election. Let's see if they can do anything to capitalize on this turnover.
Study
Study: Post-Sandy Hook gun laws in Massachusetts result in more robberies and no change in other crimes.
Study Author: We need more gun control laws.
More on the Baldwin shooting
Hannah Gutierrez-Reed, the 24-year-old head armorer in charge of guns on the Alec Baldwin film where cinematographer Halyna Hutchins was tragically shot and killed and another director wounded last week, had said during a previous project that she found loading blanks into a gun to be "the scariest" thing because she did not know how to do it and had sought help from her 78-year-old father, legendary gunsmith and pistolero Thell Reed, to get over the fear. If you're not familiar with Thell Reed, look him up. This time, Hannah Reed said she loaded the gun with what she thought were "dummy" rounds, judging from what the ammo box said.
What happened? Here's some detail (more here).
Manslaughter charge for Baldwin? Maybe. Just maybe.
Meanwhile, a petition to ban using real firearms on movie sets has received celebrity support following the tragedy. I assume Mr. Baldwin, a rabid anti-gunner supports that petition. Unfortunately there is no word on a petition to ban using real idiots on movie sets. Also no word on the rumor that the movie's title will be changed to "Dumb and Dumber."
Newsletters
The November ACLDN and Rangemaster (.pdf link) newsletters are out.
2021-11_RFTS-Newsletter

---
Bullet Resistance
DGU
A man fired from a south central Nebraska grain complex last week returned to the facility and started shooting at his former colleagues with a handgun, killing two, and injuring another according to the Nebraska State Patrol.
The attacker, identified as Max Hoskinson, 61, was then shot and killed by another employee of the Agrex facility in Superior, Nebraska who used a shotgun stored in the Agrex office to shoot the Hoskinson.
GFZs
The Only Ones
Two weeks ago in suburban Chicago, an unidentified CPD officer accidentally fired his handgun during a struggle with some suspects while police were making arrests, wounding two other officers.
And this week in Chicago, an unidentified off-duty male CPD officer, 44, was fatally shot by his wife, Jacqueline Villasenor, 39 – also an off-duty CPD officer – in what was described as a domestic situation involving a struggle over a gun.
Cleveland, OH, Police Patrol Officer Sean Bannerman, 26, was arrested by the Akron Police Department on October 29, for multiple offenses including both misdemeanor and felony charges. The Charges include Aggravated Menacing, Using Weapons While Intoxicated, Improper Handling Firearms in Vehicle-Under Influence, Illegal Possession of Firearm in Liquor Permit Premises and Operating a Vehicle While Intoxicated. Bannerman is accused of flashing his gun and threatening to shoot everyone who was inside Ray's Pub in Akron.
Mississippi Enhanced Carry Permittee Fail
At least having the enhanced permit (which requires "safety training") minimizes the legal damage. However I question this person's "training." This also illustrates one of several major concerns with purse carry, which should also be covered in a decent CCW course.
Meanwhile I have learned that a lot of my Mississippi neighbors are idiots – posting online threats to kill thieves and trespassers. Don't be an idiot.
It looks like I'm gonna be making some shotguns for the next gun "buy back" event: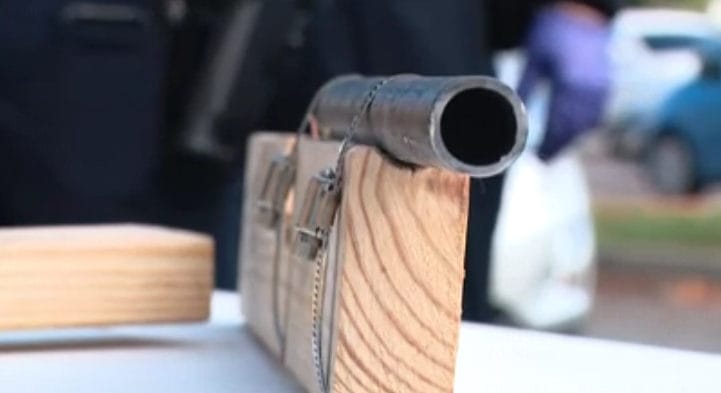 Deer CWD update
Sales
The NSSF-adjusted NICS number for last month is 1,427,264, a 19.3% decrease from last year, but still the second-highest October on record.
Recall
Colt has recently discovered a potential safety issue with certain AR rifles manufactured since March 5, 2021, and is voluntarily initiating a safety recall. Under certain conditions, it is possible that some of these ARs may discharge a second round when the trigger is released when there is a live round in the chamber. (We note that Franklin Armory, which sells a binary trigger to do the same thing, has not considered this a safety problem.)
SIG P320 woes
Products
A.R. Banks' Kindle books are free on Amazon through Sunday.
Brownells has launched a new online interactive video on how to build an AR-15. Go for it.
Vista has added about 1,500 new employees inside of 18 months at its various ammunition plants, resulting in about 40% percent more ammunition production at Federal, CCI and Speer, and "hundreds of millions" more primers for sale on the commercial market.
Do you want your scope's reticle perfectly aligned? The Real Avid Level Right® Pro might just do it. A very reasonable $70. I recently read a blog alleging that mounting a scope such that the rifle is held canted at an angle while the crosshairs are upright is somehow preferred. I suspect that blogger failed 10th grade geometry.
Springfield Armory's new SA-35 pistol is an "improved and updated" version of the late Browning P-35 Hi-Power. Oddly, it comes with only one magazine. $700. DeSantis Gunhide has a bunch of "new" holster fits for the pistol, perhaps the same "old" ones they use for the Hi-Power?
Springfield has also filed a complaint against EAA in federal court (4:21-cv-04177, C.D. Illinois) alleging copyright infringement and "false and deceptive labeling, false designation of origin, and unfair competition," about certain advertisements and social media posts about EAA's importation of the Girsan "Hi-Power."
Smith & Wesson's limited edition M&P Spec Series Pistol Kit includes an M&P9 M2.0 OR pistol, an M&P knife and a challenge coin. $969.
Mossberg's updated 12 gauge 590S pump shotgun has a redesigned elevator, bolt slide, and a new energy-absorbing bumper, allowing it to feed, fire and extract-eject, 1.75″, 2.75″ and 3″ shotgun shells – in any combination – interchangeably with no adapters fitting into the gun.
ExtraCarry IWB style clip-on mag pouches. I have not tried these, but anticipate reviewing one soon. Not cheap, but the company has offered a code for Free Shipping for 2A News readers. Discount Code: FREE2ANEWS.
Northern Precision now makes .500 Premium Bullets for the .500 Smith & Wesson magnum and .500 cal. guns. These are made from drawn-down 50 cal. B.M.G. jackets and trimmed to specs. Available in various flavors and prices.