---
Have you noticed that the Polycase/Ruger ARX bullet's external flutes are sort of directional? The curved side of the flute is on the right side of the groove (looking from the base of the bullet), and the straight side is on the left.
So, I wondered if the direction of rifling twist in your particular pistol affects the ARX's terminal performance. Turns out I'm not the first to ask.
Polycase says "The ARX is designed for maximum effectiveness out of a RH twist barrel, but the truth of the matter is that it works almost equally effectively in LH twist. In fact, the difference is immeasurable in all of our terminal ballistic (gelatin) testing.
This is because the bullet's rotation is actually a nominal factor in the energy transfer mechanism. Instead, energy is transferred to the target by the shape of the radial flutes, which serve to pressurize and redirect fluid matter laterally regardless of the twist direction of the bullet."
---
A peek inside the 42nd Annual National Association of Sporting Goods Wholesalers meeting and expo.
---
Hornady has new "Heat Shield" Extremely Low Drag Match bullets (learn more here and here).
---
Warner Tool Company has introduced their Flat Line Projectile, a new product line of specially designed rifle projectiles that are claimed to exceed all current products for performance by a margin of close to 20%, with much higher BCs when compared with projectiles in its weight class (in the neighborhood of 0.8 BC) higher velocities when compared with projectiles in its weight class and much higher velocity when compared with projectiles of similar BC.
---
Robar has teased an AR-15 using polymer upper and lower receivers, and some titanium components that weighs just 4.75 lbs. and is expected to retail for under $2k.
---
Awesome receiver markings: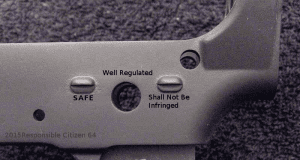 ---
Remington's Custom Shop is up and running, and Remington also has 200th Anniversary Limited Edition guns.
---
Henry Repeating Arms has 16 new rifles
---
Have you heard of C Products magazines? Apparently they go for 100,000 rounds without maintenance or failure, and are guaranteed never to jam.
---
CRKT (Columbia River Knife & Tool) in conjunction with Ruger, has introduced a collection of Ruger-branded knives.
---
FNH USA is coming out with the M249 SAW in a semiauto version. Still belt fed. Around $8k or a bit less.
---
High Tower Armory has a windowed 25-round magazine on the way for the Ruger 10/22, the HTA RM-25. In addition to the window along the side, it also has steel feed lips for reliability, and the ability to configure it in two different modes, standard and finger assisted reload, or what High Tower calls rapid reload mode. Rapid reload mode basically allows you to remove the window and access the follower from the side to allow you to reload the mag much faster. Black and flat dark earth. $30.
---
Check out the Vertx carry bags
---
A Leupold VX-3 has been named "Best of the Test" by Richard Mann in Field & Stream Magazine. (I don't normally read F&S due to their continued employment of a different, gun-banning writer.)
---
Uniquetek has adjustable-angle pistol grips for ARs and SCARs.
---