Housekeeping
No newsletter next week due to the Thanksgiving holiday. I will be giving thanks for you good folks with whom I figuratively share a tent.
Election
So, did I miss all of the predicted right-wing violence following the election?
Litigation
More on the unconstitutional gun serial number requirement
In Wade v Univ. of Michigan, the Michigan Supreme Court last week sent a challenge to the University of Michigan's gun ban back to the Court of Appeals, for consideration in light of N.Y. State Rifle & Pistol Ass'n v. Bruen, saying in part, "[I]t is not at all apparent that Heller's brief discussion of sensitive places was intended to establish a rule that all entities historically known as 'schools' could permissibly ban firearms…"
The U.S. Supreme Court on Monday for the third time this year declined to hear another challenge to a federal ban on bump stocks imposed under former President Donald Trump. This appeal was filed by a group of firearms dealers and individuals in Minnesota, Texas and Kentucky after a lower court rejected their argument that the government had violated the U.S. Constitution's Fifth Amendment "takings clause" by effectively taking their private property without just compensation. President Trump's administration "reclassified" bump stocks as machine guns. However we also continue to note that the actual definition of machine guns is codified in federal statute (26 U.S. Code § 5845), which does not include any authority for further definition, and any attempted executive/administrative change is presumably invalid. We also note that pretty much all federal firearms laws are patently unconstitutional.
The anti-gun U.S. Second Circuit Court of Appeals has temporarily reinstated parts of New York's new concealed carry law after a federal district judge last week blocked some provisions that restrict the carrying of firearms in certain public spaces.
The Second Amendment Foundation and the Firearms Policy Coalition have filed a federal lawsuit challenging the constitutionality of Delaware's recently-adopted felony ban on so-called "assault weapons" on the grounds the legislation—known as House Bill 450—violates the Second Amendment. The law categorically bans possessing, self-manufacturing, transporting, importing, selling, transferring, purchasing, receiving and lawfully using constitutionally protected arms that are in common use across the nation, listing dozens of prohibited firearms described generically as "assault long guns" and 19 handguns described as "assault pistols," plus so-called "copycat" firearms. The case is known as Gray, et.al. v. Jennings.
The U.S. Third Circuit Court of Appeals has ruled in Range v. Attorney General, using the Bruen instructional framework, that nonviolent felons may lose their Second Amendment rights. A three-judge panel of the Philadelphia-based 3rd Circuit unanimously ruled that because Bryan Range pled guilty in 1995 to felony-level welfare fraud in Pennsylvania, making false statements about his income to obtain $2,458 of food stamps, he may be deprived of the right to own a gun.
The U.S. District Court for the Western District of Texas, Pecos Division, has ruled (pdf link) in U.S. v. Perez-Gallan that 18 U.S.C. § 922(g)(8), which makes it a crime to possess a firearm while subject to a court order, is unconstitutional under Bruen's framework. U.S. District Judge David Counts ruled that the federal government's disarming of Perez-Gallan did not sufficiently consider the historical context of domestic abuse law when revoking his Second Amendment rights.
A jury in Texas has acquitted a man who said he fired in self-defense when he fatally shot an off-duty Houston police sergeant in a road rage incident.
Legislation
Mississippi Gov. Tate Reeves' 2024 Executive Budget recommendation includes funding for a program called the Mississippi School Safety Guardian Program, under which school teachers or staff members would be nominated by the school district to undergo a thorough training program on active shooter situations and issued a gun, holster and ammo, and paid an extra $500 per month. The Mississippi Department of Public Safety would train the selected staff members. It is perhaps worth noting that it is already legal for those same folks to be armed in schools today if they have the state's enhanced concealed carry license. Predictably, Akemi Stout, president of the Jackson Federation of Teachers, opposes the proposal because he thinks a school massacrist would somehow be aided by the possibility of snatching a teacher's gun. The very same day that this proposal hit the news, a Jackson student's grandparent was carjacked at a Jackson school after dropping off the grandchild.
CCW
A careful study of murders last year by a non-profit research institute called Just Facts concluded earlier this month that a U.S. citizen faces 1-in-179 odds of being murdered in his/her lifetime.
A University of Washington research study suggests that in 2019 approximately 16 million adult handgun owners had carried a loaded handgun on their person in the past month (up from 9 million in 2015) and 6 million carried every day (twice as many as carried daily in 2015).
Enemies
The Joe Biden White House has again proposed a ban on so-called "assault weapons" in response to the recent murders of three University of Virginia students in which a handgun was used, in a deliberate and dishonest exploitation of the tragedy.
But he's always trying to ban guns: "By the way, I'm going to get an assault weapons ban. Before this is over, I'm going to get that again. Not a joke, and watch." – Joe Biden, Oct. 11, 2022.
There is speculation that former First Lady Michelle Obama may be considering a run for public office. We prefer that she just run away.
The Everytown gun ban group is using former President Donald Trump's 2024 presidential candidacy announcement in its push for fundraising for more gun control.
Friends
Smart Guns
Biofire Technologies has raised $14 million to pursue its Biofire Smart Gun project, with funding coming from Founders Fund, 10X Capital, Gaingels, Will Manidis, Draper Associates, Structure Capital, Service Provider Capital, and Gavin de Becker & Associates. While we have no particular objection to the advancement of technology, existence of an allegedly workable "smart gun" makes it tougher to counter legislative mandates requiring such technology – mandates which invariably excuse police and military buyers.
Dogs
I love dogs, have always had a dog and we currently have several. That said, they can be dangerous. A pack of dogs that aren't yours should be considered very dangerous.
---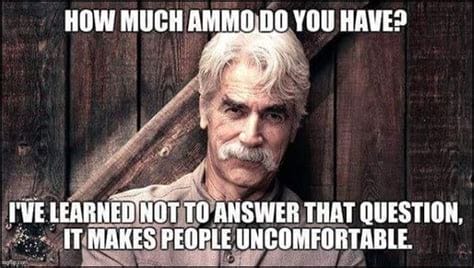 ---
The Science and History Behind the Atomic Bomb
The Only Ones
San Bernardino (CA) Police Officer Fidel Ocampo-Rodarte, who was off-duty at the time, arrested on suspicion of negligent discharge of a firearm for firing his service weapon into the air several times in a tavern's parking lot early Sunday morning after drinking with his friends.
Los Angeles Police Department gang and narcotics Detective Luke Walden was arrested this week, more than a year after allegedly feloniously trying to buy a silencer online, officials announced Tuesday.
Greece, NY, police officer Tiffani Gatson was identified as the killer in a murder-suicide in Rochester, NY, in which another woman died and a third was shot and wounded.
An unidentified Homeland Security agent and his friend were accidentally shot at a wine tasting in Florida when his unholstered gun fell to the floor, causing it to fire one shot, which passed through the agent's leg before hitting his friend in the leg as well.
High School Education
A class called American Wilderness Science is offered by life sciences teacher Natalie Weeks at Random Lakes High School in Sheboygan County, Wisconsin. A hunter education safety course is one of the components of the class, with students actually taking to the field once they've passed their test. This should probably be a core curriculum requirement nationwide.
Miscellaneous
All about Metal Injection Molded (MIM) parts
Industry News
Beretta subsidiary Norma Precision, which established its North American headquarters in Bryan County, GA (Savannah) earlier this year, will invest $60 million and create 600 jobs with an expansion of its Bryan County facility.
Fiocchi is building a new $41.5 million ammunition primer manufacturing facility in the Port of Little Rock, Arkansas. The new facility, employing 120 workers, will be one of only six primer manufacturing operations in the U.S. and the only dedicated lead-free primer plant in the world. It is slated to begin construction in 2023 and production in 2025.
Lapua has announced the temporary suspension of production of some of their ammunition components due to product demand and market conditions driven by the war in Ukraine.
Prices
Has anyone seen any cheap 16 gauge ammo lately? Most places want $1 a round if they even have it.
What I'm reading