Tuesday
Don't forget to vote.
"They call people like me one-issue voters. No, we are litmus test voters. We take an issue we know both sides of very well, and use the candidate's position on it to rate their judgment on other issues we trust them and their advisors to decide correctly for us." – Mas Ayoob
---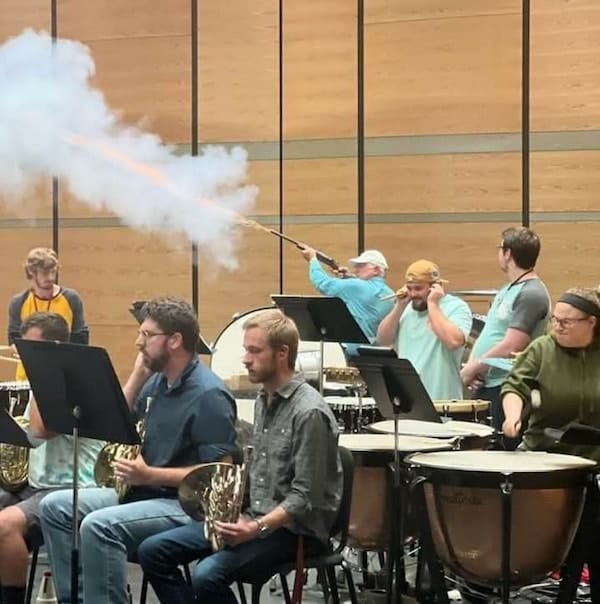 ---
Litigation
U.S. District Judge George H. Wu has upheld California's attempt to ban (pdf link) possessing unserialized homemade guns and the tools to make them, saying that the conduct in question was simply not covered by the plain text of the Second Amendment. Wu decided that since the Second Amendment only explicitly mentions the right to "keep and bear" arms, manufacturing them (and presumably any other gun activity) is not protected.
Federal Judge Carlton Reeves of the Southern District of Mississippi pushes back against SCOTUS Justice Clarence Thomas and the Bruen decision. Problem is, Reeves doesn't seem to know the definition of "infringe," nor does he seem to understand that the U.S. Supreme Court has ruled.
Department of being wrong
A lot of local "news" media outlets – which don't do journalism – have picked up an AP hit piece written with the assistance of gun ban groups, alleging that cops can't figure out how to treat people who are legally and visibly armed, and who are doing nothing wrong. In other words, they can't figure out how to arrest someone who hasn't committed or threatened to commit a crime.
Not a DGU
You may have heard that a man using a hammer attacked Paul Pelosi, husband of virulently anti-gun U.S. House Speaker Nancy Pelosi, in their San Francisco residence late one night last week, sending him to the hospital with serious injuries including a skull fracture. Apparently the attacker whaled away on Mr. Pelosi IN THE PRESENCE OF POLICE OFFICERS called by Mr. Pelosi after U.S. Capitol Police didn't notice the initial break-in on their live video feed from the Pelosi home. Nancy (with her protective detail) was traveling from a security conference in Washington at the time, from which she apparently learned nothing. But since they apparently practice what she preaches, elderly Mr. Pelosi had no chance to defend himself against the potentially fatal assault. No word on any efforts by Mrs. Pelosi to include hammers in her ubiquitous gun ban bills.
GFZs
Two people are dead after a shooting erupted at a post office in Chattanooga, Tennessee, Sunday night and ended when the fleeing suspect died crashing into a strip mall business. Post Offices are gun free zones. You can't legally comply with the Constitution or defend yourself there.
Newsletters
The ACLDN and Rangemaster (pdf link) November newsletters are out.
---
Be real sure to read the Massad Ayoob interview on disparity of force.
Coincidentally, here's another recent case involving disparity of force.
"How much deadly force training did you (attorneys) get in law school?" The average runs no more than three hours. Several of them have said, "I don't remember any." – Mas Ayoob
And our usual reminder on speaking to the police.
Enemies
Science Photo Library, a website that features scientific and medical images and videos, stipulates that an image of a 10-week-old unborn baby is not to be used by pro-lifers in its description. A site spokesman admits it also has images of gun-related content in its collection with similar restrictions.
Michigan Democrat nominee for State Representative Maurice Imhoff wanted to carry out a school shooting of Northwest Middle School in Jackson, Michigan. He was arrested by the police before he could carry out the shooting and charged with "threat of terrorism," to which he responded, he made "poor decisions." He also allegedly widely shared child pornography of his then-13 year old girlfriend in a case of "revenge porn." He's on the ballot in Michigan.
Rock music star Tom Petty's estate is partnering with Mike Bloomberg-affiliated Everytown for Gun Safety and claims the late singer supported gun control. I've heard of Richard and Kyle Petty, but never Tom.
Baldwin
The Santa Fe Sheriff's Office completed its investigation last week into the fatal "Rust" shooting that left cinematographer Halyna Hutchins dead, and has turned over the results to the District Attorney. Many believe that criminal charges against those involved, including Alec Baldwin, are imminent. Certainly there seems to be no disputing the fact that Baldwin cocked a loaded gun, aimed it at the deceased, and let fly. Sounds criminal to me.
The Only Ones
More on the ATF's gun trafficking.
Off-duty Santa Cruz, California, Police officer Francisco Villicana, 22, was cleaning his personal weapon last week when he fired a shot through his hand, fatally striking another man in the upper body.
Philadelphia Sheriff's Deputy Samir Ahmad, 29, has been arrested and charged with federal offenses of trafficking and selling guns after Ahmad sold two guns to an undercover "illegal alien."
Kanisha Spence, a state-certified Baltimore area convenience store security guard, has been arrested on attempted murder and other charges after she shot a belligerent but apparently non-threatening customer in the head, seriously injuring him.
Federal prosecutors expect to dismiss dozens of felony gun and drug cases involving officers on a violent crime squad in the Washington, D.C. police department's 7th District, a spokesman for the U.S. attorney's office said, after an ongoing internal investigation raised questions about the officers' credibility when prosecutors learned that the officers were under internal investigation for seizing guns without making arrests, and possibly lying on police reports.
Mountain Men
The History Channel Airing "Mountain Men: Ultimate Marksman" 8-Part Competition Series
Milwaukee PD dumping Sig
Milwaukee police are trading out the standard issue Sig Sauer P320 due to ongoing concerns and lawsuits about multiple instances of "unexplained discharges" where the guns are reported to have fired without the trigger being pulled. The department is moving to the Glock model 45.
Tactics
Products
12 Concealed Carry Guns 12 Ounces Or Less. Yes, really.
7 mm PRC: Hornady's New Precision Rifle Cartridge
Smith & Wesson's new M&P®9 M2.0™ METAL pistol is built with a T6 aluminum frame and has a 4.25″ barrel, M2.0 flat face trigger, two 17-round magazines and is slide cut for optics. It is finished in Tungsten Gray Cerakote®. $900.
Howa's Super Lite bolt rifles in .308 Win. or 6.5 Creedmoor weigh just 4 lbs. 7 oz. $1400.

Need a cheap .22 pest or tackle box gun? Kentucky Gun Co. has Heritage Rough Rider .22LR/.22WMR combo revolvers for just $90 shipped after manufacturer's rebate. They have other deals as well.
……….