GRPC TOMORROW – FREE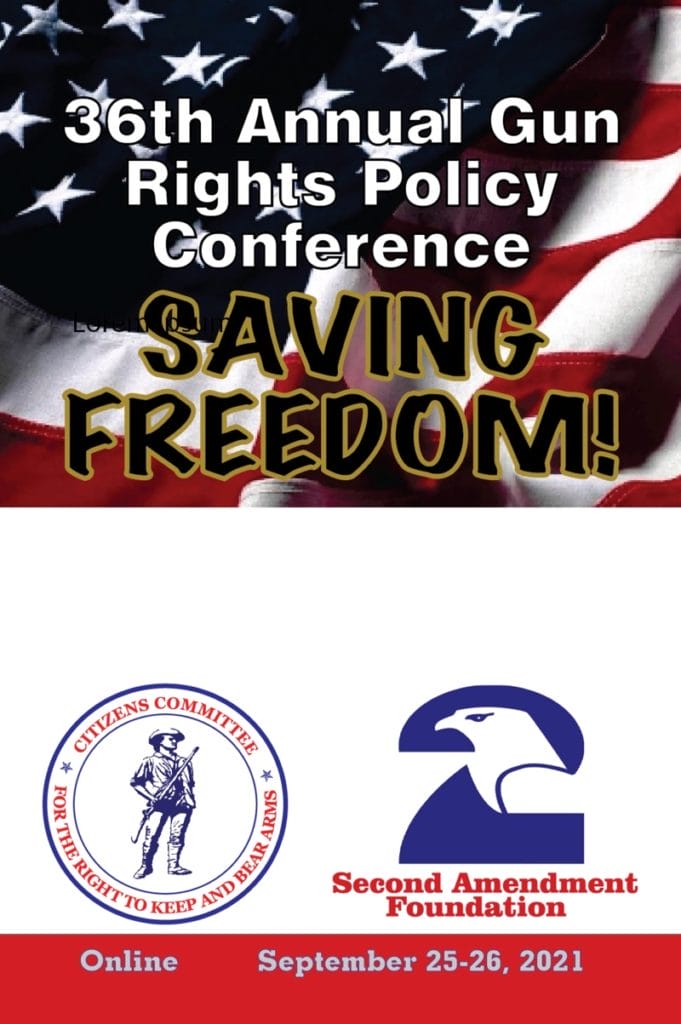 The Second Amendment Foundation's FREE 36th Annual Gun Rights Policy Conference (GRPC 2021) will be held virtually online on September 25th & 26th, 2021.
Register here.
Litigation
Write-up on the SAF's federal lawsuit against Cook County, Illinois' semiautomatic firearms ban.
The 4th U.S. Circuit Court of Appeals threw out a July ruling it had made that found a ban on gun buyers under 21 to be unconstitutional, saying the previous ruling was now moot because the two plaintiffs in the case had recently turned 21. Judge Julius Richardson said vacating the ruling he had previously authored would serve the public's interest as it would make way for further litigation in the future.
Studies
The 2021 National Firearms Survey, by Prof. William English, PhD., at Georgetown University, found that:
More than 81.4 million Americans aged 18 and over own firearms.
31.1% have used a firearm to defend themselves or their property.
1.67 million [defense with firearm] incidents per year.
79% of these incidents occurred on the defender's property or in his/her home.
ICYMI:
79% of these incidents occurred on the defender's property or in his/her home.
Carry, always.
SSRN-id3887145

---
Meanwhile, a new report out of West Virginia shows that five years after Constitutional Carry took effect in the Mountaineer State, violent crime has dropped substantially.
Massacre
Did you hear about the mass killing in Syracuse, NY, last month? No? That's because a good guy with a gun stopped it.
Competition cancellation
USA Shooting has announced the cancellation of their 2021 National competitions, scheduled for next month at Fort Benning, Georgia, due to COVID restrictions.
ATF mission creep
Actually it's not creeping – it's running.
Now if we could just get a legitimate audit of ATF employee time sheets…
The Only Ones
Federal prosecutors are "not moving forward with charges" against an off-duty U.S. Customs and Border Protection officer who was arrested by U.S. Capitol Police for illegally possessing a gun on the grounds of the Capitol.
How to protest
Just an FYI for when the time comes…
Enemies
Actual headline: "[NY] Attorney General James Takes 57 Guns Off the Streets at Westchester Gun Buyback"
So…. I guess only one guy showed up?
The Brady Bunch is trying to bully ACE Hardware out of selling guns. ACE stores are independently owned, and some have FFLs and sell guns and more sell ammo. I think someone should buy an ACE hammer and nail the Brady Butts to the floor.
Misc. Info
Defensive Bow Use
A Missouri boy used his deer hunting archery tackle to fatally shoot a man who was charging him after trying to steal equipment from the property where the boy was hunting.
Physics myth
I heard a suppressor salesman on the radio this week claiming that extra stationary weight (such as a suppressor) attached to the muzzle end of a rifle barrel "always" increases the accuracy of the rifle strictly due to the added weight, "the same way a bull barrel" increases accuracy. I don't see how. In the first place, a bull barrel, IF more accurate, does not gain accuracy due to the added weight, but due to added stiffness. (Disregarding the weight's dampening effect on the SHOOTER'S wiggles or reaction to recoil, and in long strings the additional heat absorption capacity.) That is why benchrest and rail gun shooters use bull or heavy barrels instead of just a big blob of weight stuck on the end of a skinny barrel. That's also why barrels are usually tapered smaller toward the muzzle instead of being larger toward the muzzle. In the second place, while simply adding weight, anywhere, may have a dampening effect, it is unlikely to enhance accuracy unless one is fortunate enough to add it at a location which coincides with the barrel's inherent harmonics such as to make the barrel oscillations smaller and/or more consistent (like the Browning BOSS system). If the weight is blindly added and not so adjusted, it may harm accuracy. However, if the young man in question would like to press the point, I'd be very interested in seeing his math.
Another errant messenger
A daily gun-related newsletter that I receive features an editorial column by a respected leader who very often uses the space to preach about being prepared, planning, equipping, and self-sufficiency. But this very same expert posted a story this week about his having a flat tire and his difficulty in obtaining "roadside service."
I suggest, Jim, that you take a minute away from advising us what to do and check your own vehicles for a spare tire & wheel, jack, lug wrench, plug kit, air pump and toolbox with basic mechanic tools and common minor spare parts. I also suggest that you get that stuff out in your driveway and make sure you know how to use it ahead of time. I've had dozens of flats and blowouts, including inside dual tires on heavily loaded vehicles, and none of them ever required me to obtain any on-site assistance.
Be prepared, y'all.
Writing night.
An outstanding idea.
Obits
Famed trapshooter Loral I Delaney has passed. I admit I'd never heard of her until now, but what an impressive woman!
Berger Bullets announced the passing of Berger Bullets & Ammunition founder, Walter Berger. Walt passed peacefully on Sunday afternoon September 19th, 2021, surrounded by friends and family at the age of 92.
---
Products
The new Beretta 92X RDO pistol appears to me to be a lower-priced "civilian" version of the new M9A4 reported on last week, with the same improvements. Very similar, but not identical. $699. Beretta also has the new 92X Performance Defensive, designed for IDPA competition. $1549.
D&L Sports' SS (Short Slide) D&L Professional Model is a redesigned full size 1911 Model made to work with a short slide (Commander length), yet retain the functional slide travel distance and timing of a full size five inch barreled Pro Model. P.O.R. They have many other unique cool guns as well.
Weatherby has added three 20-gauge variants to its line of Orion over/under shotguns, built on a smaller action. 6.2 lbs. Starting at $950.
9mm lever action AR-15 style rifle. Really. Designed around the UK's silly laws.
Lights & LASERS roundup. Y'all let me know if you want to report your own experience (share them in the comments below).
My X-Box: