Housekeeping
My apologies for the missed newsletter last week. We had a failure of our phone line, DSL and electricity. It seems that AT&T and Entergy aren't very good at providing utilities. But it's funny how they always manage to get their bills here.
NRA updates
New website about the debacle
Sixteen other state attorneys general have accused New York Attorney General Letitia James (D) of abusing her power in her attempt to shut down the National Rifle Association.
Finally a few NRA Board members are choosing sides, and some are taking cover. I suspect some may have serious legal problems due to their actions as Board members.
Multiple sources report that NRA EVP Wayne LaPierre appeared to be somewhat incompetent or deficient during his testimony in bankruptcy court last week.
State legislation
Follow-up on this year's Mississippi session by Rep. Dana Criswell
New Mexico has banned trapping on public land.
Tennessee and Iowa have joined the list of states legalizing no-permit-required constitutional carry. That makes 19 states. More are actively working on it.
Federal legislation
The U.S. House Representatives, with the urging and support of President Shotgun Joe Biden, passed two onerous bills last week – H.R. 8 and H.R. 1446 – that would usher in a sweeping overhaul of how firearms are bought and sold in the U.S. Neither would impede criminals, but only infringe on the rights of citizens.
You can urge your U.S. Senators to oppose these unconstitutional measures here (editable).
You can also oppose the nomination of rabid gun banner David Chipman (most recently employed by the Bloomberg/Giffords gun ban group) as head of the ATF.
And check out these gems that John Richardson dug up on Monkey Chipman:
If senators are able to block the confirmation of Chipman, Marvin Richardson would presumably remain in place as acting director of F Troop.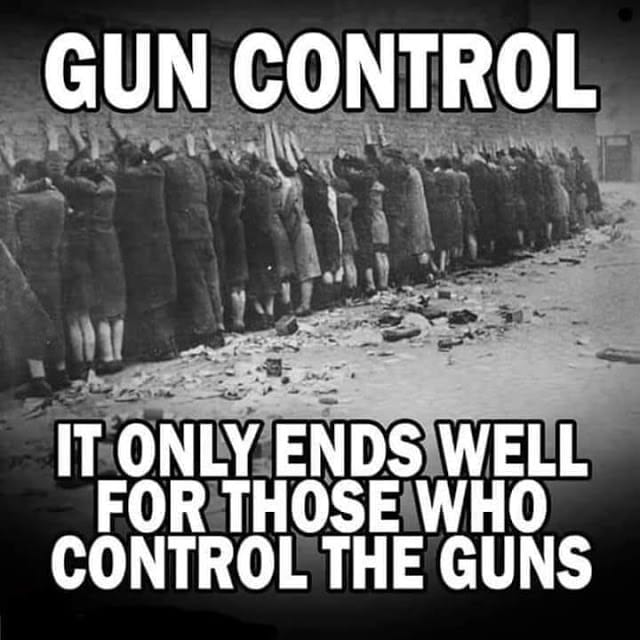 Biden bans
"Nothing I'm about to recommend in any way impinges on the Second Amendment. They're phony arguments suggesting that these are Second Amendment rights in what we're talking about." – Joe Biden last week, about his proposed gun bans and confiscations. Could he be any more of a liar?
We note that just last year, Biden said, "if you can't get the votes … you can't [legislate] by executive order unless you're a dictator. We're a democracy (sic)."
Meanwhile, GOA and several state attorneys general promise to sue the Biden administration over the unconstitutional proposals. U.S. Rep. Steven Palazzo (R-MS) says, "The Biden-Harris administration's push to eliminate your Second Amendment right is not only unconstitutional, it is un-American. I was the first Member of Congress to introduce a formal censure of Obama when he issued executive orders attacking the Second Amendment and will be carefully reviewing these executive orders to determine if similar action is warranted."
A GoBankingRates.com poll question of "Gun violence costs Americans an estimated $280 billion a year. Should Biden ban assault weapons?" had an 83% "No" answer rate this week.
……….
Sign petition to stop packing of U.S. Supreme Court
……….
Enemies
Mississippi Democratic Party Chairman applauds President Biden's gun control actions.
As if we needed more reason to vote against them.
Facebook bans most gun ads and mention of guns, but spent over $23 million on security for CEO Mark Zuckerberg, including guns and armed guards.
Democrats in Florida hold gun buy-up event at location which they fought to keep prohibited for gun possession. Yep, they're breaking their law.
Some firearms instructors still selling out your rights. Any instructor (or anyone else) who thinks you should be required to take a class before being "allowed" to exercise a human or Constitutional right, is part of the problem.
Friends
Litigation
Parents of a convicted felon were denied the return of nearly three dozen guns seized from their home as part of the investigation of their son's crime. We suspect that not all of those guns are actually potential evidence in the case.
Did you know? (Legal)
Marty Hayes, JD, says that in four years of law school, he received a cumulative total of about 90 minutes of self-defense legal education, including a total of one test question. Apparently lawyers typically just don't know…
"Universal" background checks
UBC law proposals are specifically designed to criminalize normal, benign behavior, and to be used as weapons to destroy us. Literally.
The Only Ones
Off-duty Pentagon police officer David Hall Dixon acted outside his jurisdiction, out of uniform, and "had no lawful or justifiable reason to shoot and kill" two car burglars in Tacoma Park, MD. Then he lied to police about the event.
Brooklyn Center (Minneapolis), Michigan veteran Police Officer Kim Potter reportedly mistakenly fired her pistol at a suspect, fatally striking him, but she thought she was firing her TASER. That it was a mistake is apparently supported by bodycam video of the incident. We note that TASER brand police products are shaped remarkably like a pistol, with a very similar grip, trigger and sights. I suggest that is a poor design decision when you know the officer is also carrying a lethal pistol. Officer Potter and the police chief have since resigned and Potter is being charged with second degree manslaughter.
Manatee County (Florida) Sheriff's Office Deputy Sgt. John Finley took a flash-bang grenade from his department's SWAT armory, pulled the pin and then tossed it outside of a coworker's home during a Dec. 12 Christmas party to "announce his arrival."
The Knoxville, TN, police officer who was shot at a high school there this week was apparently shot with a police officer's gun (perhaps his own), contrary to earlier reports that the student in the altercation shot him.
Always Think Forfeiture
"You don't have no rights here. I'm sick and tired of hearing about your rights."
Sales down?!
We reported the raw FBI data of a record high number of NICS background checks last month, we now have the NSSF adjusted figures which show the number of unique background checks for gun sales performed actually fell 14% below March of last year. According to NSSF's adjusted figures, there were 2.04 million background checks performed in March 2021, well below the 2.38 million recorded last year, which was the single greatest month for background checks on record. Last month's number was still 47% higher than February.
Related: If, as reported by the left/media, most people want more gun control, then why are record-level millions of them buying guns every single month?
Surviving the knockout game
How violent criminals select victims
About that FBI data on gunfights
Remember the old stat about the large majority of gunfights occurring at pretty short distances, with just a few rounds fired? If you're getting that data from the FBI, it might be useful to know the FBI does not gather information about distance of gunfights in routine submissions to the Uniform Crime Reporting (UCR) Program. The only information on distances is gathered as supplemental data in cases where police officers are actually killed. In other words, their shooting distance data only reflects police shootings in which they lost. One conclusion that might be drawn from that is to not ever let a suspect encroach upon you within 20 feet or so.
……….
……….
DGUs
"What are you willing to do to prevent your children from becoming orphans? Who in this world is better prepared and more willing to raise your children than you?" – Massad Ayoob
GFZ
You may have heard about the mass shooting at a FedEx facility in Indianapolis last night. Police arrived just in time to count the bodies. Gun Free Zone. Extremely anti-gun company.
Records
……….
……….
Industry news
The former Remington plant in Ilion, New York reopened last week under the Roundhill Group's ownership. It opened with an initial 45 workers plus management. The opening was delayed about a month while they were fooling around with the labor union, which of course was partly responsible for Remington going bankrupt in the first place.
We are hopeful that some new ammo and component manufacturers will enter the field to diversify and add to the supply.
Vista Outdoors has announced ammo price increases due to "new capital investments and unprecedented raw material price increases during these last few months." Effective 7/1/2021 CCI, Federal, Remington, and SPEER ammunition will take a price increase of 7% across all products from the last price list and primers will increase 15%.
Also due to materials cost increases, Fiocchi has announced the following ammunition price increases effective April 30, 2021:
Fiocchi
Centerfire Pistol: 5%-15%
Centerfire Rifle: 5%
Rimfire: 5%
Slug & Buck: 15%
Promotional & Target/Game Shotshells: 7%
B&P Target/Upland loads: 5%-10%
Leupold & Stevens, Inc. has sold its value-priced Redfield brand to Academy Sports + Outdoors. Academy will develop and sell sports optics exclusively for Academy Sports + Outdoors under the Redfield brand going forward. Since Academy is not an optics maker, we don't know what their products will really be like. Caveat emptor.
Products
Walther's popular Performance Duty Pistol (PDP) is now available in 5″ versions for both Full Size (18 round) and Compact (15 round) models.
The Citadel ATAC Warthog semiauto shotgun is touted as a good home defense gun, and it's available at Guns.com for just $263. But I'm not sure I want a FIVE POUND 12 gauge.
Just one more gun we all really NEED: Mad Pig Customs' Fudd Breaker: 3-Stamp Lever Gun
About Federal's .22LR Punch defensive ammo
And right on time with the rimfire ammo shortage we find the Rimfire Ma Deuce.
Surefire's new Masterfire® Pro Rapid Deploy Holster incorporates a polymer shroud that covers the frame and slide of the weapon, minimizing exposure to the elements, includes an integrated accessory rail system, and interfaces with SureFire H-Series WeaponLights (not the weapon) to activate light/laser on the draw. Also accommodates suppressed pistols. ONLY $239.
The new NovX™ Pentagon defense cartridge line features monolithic copper hollow point bullets with 2x expansion and high velocity and use the NovX patented 2-piece stainless steel cartridge case design.
Pentagon is currently offered in:
9mm Luger, 115-gr., 1300 fps, in stock now at MidwayUSA
Coming soon:
9mm, +P
.380 Auto, 80-gr., standard pressure or +P
.40 S&W, 140-gr., standard pressure or +P
.45 Auto, 185-gr., standard pressure or +P
Also available from NovX is the new Pentagon handgun cartridge featuring a segmenting monolithic copper bullet.
Pentagon-x is currently offered in:
9mm Luger, 80-gr., standard pressure or +P
Coming soon:
380 Auto, 60-gr., standard pressure or +P
.40 S&W, 105-gr., standard pressure or +P
.45 Auto, 130-gr., standard pressure or +P
Realtree® Fireworks. Really.
Quotes
"The best teachers are those who show you where to look but don't tell you what to see." – Alexandra K. Trenfor

"Military experience is of very little value in evaluating this [self defense] stuff." – Tom Gresham